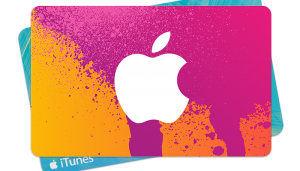 Until the 18th September you can save up to 20% on iTunes gift cards with Tesco Direct. What's more, if you spend over £50 you'll receive 150 bonus Clubcard points.
Details of the iTunes offer
Tesco regularly run these types of deals albeit under different names.
This particular offer is being touted as part of their 'back-to-uni' sale and if you regularly but iTunes vouchers, this offer is one not to be miss.
Depending on the value of the gift card bought, it will determine the discount you receive.
You'll get:
15% off iTunes £25 and £50 gift cards and digital gift cards
15% off iTunes £30 mulitpack gift card
20% off iTunes £100 gift cards and digital gift cards.
As you can see, it's much more worthwhile buying a £100 gift card as you'll qualify for the higher 20% discount.
What this also means is that by spending £80 (£100 gift card minus the 20% discount), you will also land yourself 150 Clubcard points.
Now even with the 20% discount; spending £80 on iTunes might seem excessive, but with Christmas only a couple of months away this may just be a perfect present for an iPhone obsessed family member.
How does the 150 points offer work?
For every £50 spent on Tesco gift cards you'll receive 150 Clubcard points.
You will also need to take the discount into consideration. When you're buying a £50 voucher with say a 15% discount (£35) it'll mean you will not qualify.
When buying online the points will not show on your receipt but will automatically be added to your Clubcard balance within a week or so. If bought in-store, the Clubcard point will be added at the till.
If you don't want to spend £50 
Now if £50 is a bit more than you've budgeted for, you may still be able to buy a discounted iTunes gift card for a site we use quite often.
Zeek.me is an online marketplace for people wanting to buy and sell gift cards.
There are always plenty of discounted gift cards to purchase including iTunes vouchers. We buy gift cards from here for personal use and gifts, and we've never had an issue.
If you haven't used Zeek before you will be able to get an additional £5 off your first purchase by going through our link.
To give this some context there are currently a handful of £20 iTunes vouchers for sale with 5% off.
Not much I hear you say (and there isn't any free Clubcard points) but as a first time user using our discount, the final price of the gift card will be just £14. That will save you a decent 30% off the full price!
Ricky is a deal hunter on the site and is best known as the award winning founder of SkintDad.co.uk. He is a money making enthusiast, father, and husband to Naomi, and is always looking for unique ways to earn a little extra.