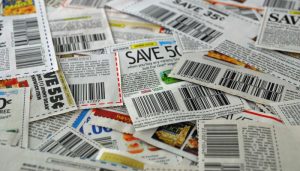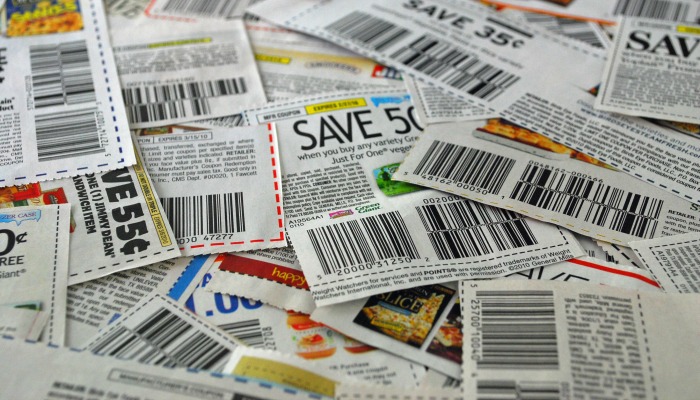 UPDATE: Sainsbury's has announced that it has closed its trail of My Coupons. It was fun while it lasted and I'll keep my fingers crossed we'll get something as good as this again in the future.
So I'm sure you've heard of American extreme couponers?! They find, collect, collate, then shop with masses of vouchers for money off.
It works out that they get their how-ever-much shop for pretty much free!
While this is amazing, it's not fully possible to pull off a shop like this all the time in the UK. But there are still plenty of coupons about that you can use.
If you have a hunt around you can find a fair few coupons. Good places to find them are cereal or tea boxes, in magazines or newspapers, and you can even find some on the aisle of a supermarket. These vouchers aren't always for the items you're after so some you may use; others may just get wasted.
Using apps to help get money off or cashback on your shop are a great way to slash your costs on certain products. However, you can also find Sainsbury's specific vouchers to help boost your Nectar card points!
My Coupons
Using My Coupons by Sainsbury's you can get specific Sainsbury's coupons that you can load onto your Nectar card.

Choose coupons
To take advantage of their bonus offers, register then take a look through the whole selection of coupons they have up for grabs.
You can only add 5 to your basket on each occasion. You want to make sure you fill up your basket to its full potential with what you'd actually use. If you add the wrong one, you are able to delete it out and add another.
Shop
When you've got everything selected, just make sure you take your Nectar card to the store with you (or you can use it online) and swipe after you shop.
The points are loaded onto your card so there is no need to print any vouchers out or remember to take them with you.
You are only able to use each coupon once.
Earn points
That's simply it! All your bonus Nectar points will automatically be added to your account up to 10 working days after your shop.
Sainsbury's suggests that once you've used the coupon you leave it in your basket on the site until you get an email confirming your bonus Nectar points have been added.
Even more benefits
What I love is that you don't need to keep a printer to get these vouchers.
As they automatically load to your card, it's great that you don't need to remember to take something else to the supermarket. I don't know about you but I find it hard enough to remember to take carrier bags!
The coupons aren't just junk food either. At the moment, there is an offer for double Nectar card points on each shop, as well as bonus points on fresh fruit and veg.
More often than not, vouchers you clip out of a magazine are for a branded products. However, the coupons available via Sainsbury's are pretty much all for Sainsbury's own brand items.
Many are from the basics range too, so it's perfect if you're a money conscious shopper looking to boost your savings even more.
Quick coupon tips
Like using coupons or want to use them more? As well as using My Coupons, try using these quick tips:
If you have spare coupons, don't throw them away! There is a big want for coupons online and many people who are looking to reduce their supermarket shop will buy them. Try to sell them for a bit of a profit on eBay!
Do your research before using coupons. Make sure the shop you're going to has the cheapest price so you make the most out of your discount.
Double up in savings by getting cashback on apps like Click Snap or CheckoutSmart.
Naomi Willis is the Editor of Loyalty Card Points. After needing a new purse to accommodate her loyalty cards, Naomi now knows a thing or two about maximising points!