Need to top up on your favourite moisturiser, toothpaste or shampoo?
Perhaps you want to take advantage of what's left of the Boots 50% off sale?
Or maybe, you want to get in early and buy a gift for your loved one for Valentine's Day?
Whatever your reason, you don't want to shop at Boots unless you can grab a bonus offer.
And that time is now!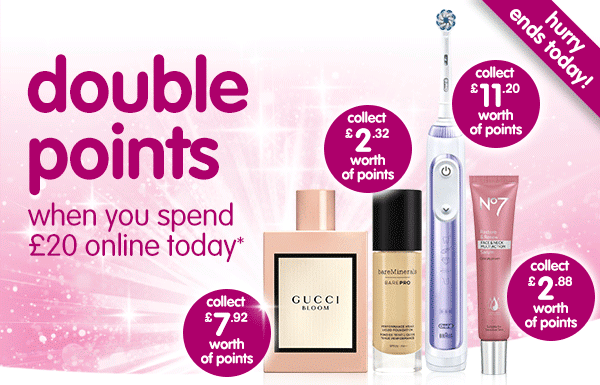 Double points at Boots
Today only, when you spend £20 or more online, you are able to collect double Advantage Card Points.
That works out at 8 points for every £1 you spend!
This offer is not running in store but is online only.
Have any other points to collect?
Not long into the New Year, you may remember getting a letter through from Boots?
It had loads of extra bonus points coupons inside.
Hunt down the letter and take a look to see if any of the offers are still relevant to you, so you can use them at the same time as the double points day and cash in more.
Member of More Treats for Over 60s or Parenting Club?
If you're a member of More Treats for Over 60s or Parenting Club you already get a decent deal when it comes to bonus points.
During the double points promotion, you will receive either 8 or 12 points for every £1 spent retrospectively.
For every £1 spent on qualifying items an additional 6 points will be collected.
The double points offer ends at midnight.