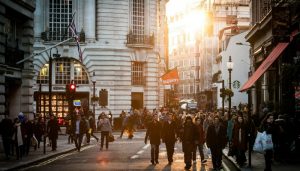 Did anyone used to play the sit down game?
So there'd be a question like, sit down if you have blue eyes. Then a load of people would sit down, and you'd carry on in the group until you'd have maybe one person left. I used to play it in school, but can see how it'd work for team building too.
Anyway….I digress….I was thinking about loyalty cards and playing the sit down game.
I think I'd be standing up for a very long time. And I guess that if you're reading this then you're a fan of loyalty cards and have your fair share of a collection too.
Sit down if you have….less than one card
…less than two cards
…less than three loyalty card……are you still standing?
How long would we need to go on for?
While it's clear that us Brits love being rewarded by retailers, we are really not using them 🙁
Come on people – take advantage of all these free offers!
We're not using loyalty cards
British shoppers are the most likely in the world – the world! – to have a loyalty card (that almost sounded Trump-like, sorry!)
According to latest research by Neilson, 89% of the UK population have a loyalty card with an average of 3.6 cards a piece (maybe my mega stash makes up for other people not having so many!)
However, we're also the least likely to use them – boo!
They don't seem to be having an impact on our purchasing habits.
If everything is equal (like price, distance to the shop etc) then only half of loyalty card holders will buy from a retailer with a scheme in place. This shows that the rewards we can get are not making an impact on where we are actually shopping.
Not using your card? Here are some other uses: 12 Hacks and Clever Uses for Store and Loyalty Cards
Why aren't we using loyalty cards?
To be honest, this quite worries me for the loyalty schemes in place in the UK. Retailers may look at this and decide it's not worth continuing their schemes. Unfortunately this will just leave us shoppers who do use the loyalty schemes out of pocket!
However, maybe it's that the loyalty rewards on offer aren't good enough to tempt us to use them?
We've seen the value of reward points decline over the last few years, as well as retailers pull different ways to earn.
The rewards that people want to see and are valued the most are:
product discounts (cited by 53% of scheme members)
cashback (50%)
free products (38%)
recognition as a valued customer (20%)
So, if they put better rewards in place then maybe more people would use them.
Considering that so many of us have the cards, it seems strange that they are not being put to good use. Maybe people think it can be hard to access all the different rewards on offer or it can be difficult to work out the best way to redeem them.
Don't let any of this put you off though! We will continue to show you the best ways to maximise your high street rewards, so you never miss out.
Naomi Willis is the Editor of Loyalty Card Points. After needing a new purse to accommodate her loyalty cards, Naomi now knows a thing or two about maximising points!