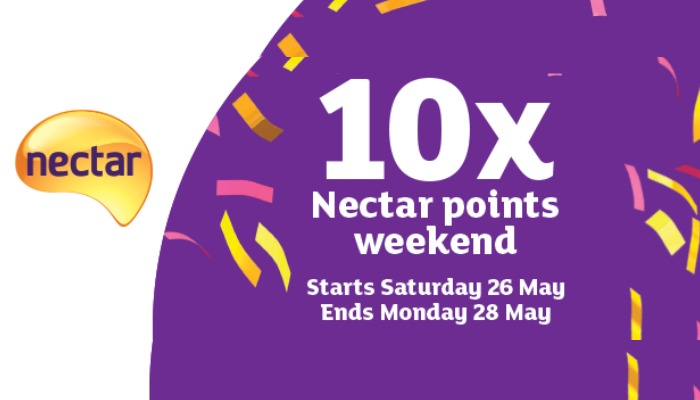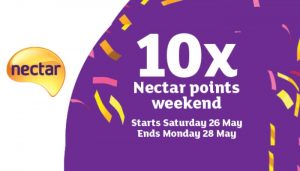 Hold onto your hats Sainsbury's shoppers!
If you normally do your food shop on a Friday give it a miss and wait to do your shopping later this bank holiday weekend cause there's a special promotion on the way.
10x Nectar points weekend
While you likely don't want to spend your bank holiday weekend in a supermarket, you may well get tempted by their latest offer!
This weekend, from 26 – 28 May 2018 you're able to collect 10x Nectar points!
This is on the whole basket so you could end up walking away with loads of points!
You're able to collect the x10 points at the following Sainsbury's stores:
Sainsbury's Superstores
Locals
Petrol Filling Stations, and
Online Grocery orders (if they're delivered on the promotional dates)
You need to spend a minimum of £1 and can buy pretty much anything from Sainsbury's.
So, whether you're going to do a food shop, or you're taking advantage of their 25% off TU clothing sale, you will get loads of bonus Nectar points.

Just so you're aware, you're aren't able to collect x10 points on TU clothes bought online.
How many points will I get?
You'll get 10 Nectar points for every £1 you spend on groceries at Sainsbury's.
You are also be able to collect 10 points for every litre of fuel you buy from a Sainsbury's petrol station.
All bonus points will be added to your account within 48 hours.
There's always a but…
Unfortunately, if you are heading to a store on the Isle of Wight you won't be able to get the x10 bonus!
Also, if you taking part in the current Nectar trial, you also won't be able to collect the extra points.
Not ALL things are included in getting x10 points.
You won't be able to collect extra points on spirits and liqueurs, first stage baby milk products, National Lottery, tobacco, gift vouchers, gift cards, prescription medicines, over the counter medicines, postage stamps, savings stamps, mobile phone vouchers, phone cards, e top-up, pay point payments, charity products and car park tickets.
Remember the 10x Nectar Weekend is only running from Saturday 26 May to Monday 28 May.