Every time you buy from eBay you are able to earn those all important Nectar card points. It's really easy to set this up but so many people are losing out on collecting them.
You are able to collect 1 point for every £1 you spend when you pay with using PayPal on pretty much all purchases. This is both on the website, on the mobile website and via the app.
The maximum amount of points you can earn on an item is 5,000; that's the same as spending £5,000.
How many Nectar points can you earn?
The points are rewarded based on the price of the item and don't include postage costs.
What's great (and usually unheard of) is that the points get rounded up when they are at 99p.
So, if you buy an item for £10.99 they will round up the value for the purpose of collecting Nectar points. You will therefore get 11 points.
However, if you buy an item at £10.95 you'll get 10 Nectar points.
What kind of eBay listings can earn points?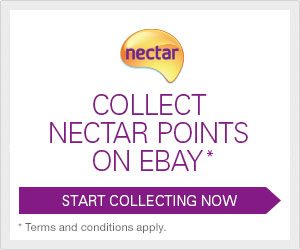 Pretty much all listing will see you totting up Nectar points.
You can earn them from the usual auction where you bid on an item. Where an item has a buy it now price, you will also earn points for the amount you pay.
If you decide to make an offer (Best Offer) and it gets accepted, you will earn points on the offer that the item is agreed to sell for.
You will get your points in your account within 28 days from when you made the purchase. If you get a refund on what you've bought the points will be deducted within 28 days from when you received the refund.
How to collect Nectar points with eBay
It's really easy to link your Nectar account with your eBay one.
Go to the Nectar page on "My eBay" then enter your Nectar card number.
You'll get a confirmation then you will start collecting when you're made a purchase and pay via PayPal.
Bonus Nectar offers
Every now and then, you are able to earn bonus points on some eBay products.
This will be show on the auction page of the item itself.
The maximum amount of Nectar points you can collect from an eBay purchase is 5,000 points per item and this will limit also applies to any bonus points.
So if you buy an item for £6,000 (collecting the maximum of 5,000 base Nectar points) and have a bonus points offer enabling you to collect double Nectar points, you will collect 10,000 Nectar points in total.
What can't you collect points on?
Unfortunately you aren't able to collect points on absolutely everything.
Firstly, to earn points you need to make a purchase over 98p.
You are also not able to earn points on items in these categories:
Cars, Motorcycles & Vehicles (Parts & Accessories are not excluded)
Holidays & Travel
Property
Gift Vouchers & Coupons
Baby Feeding: Formula
There are two sellers who won't earn you any Nectar points either and they are the Tesco outlet and Genesisuk.
If you use sniping tools to try to win an auction then you will buy your product though the ".com" site. You are only able to earn points through the ".co.uk" site so keep that in mind.
Essentially though you will see whether you can earn point or not. On each listing, it will have a Nectar logo and state that you can collect them when you make the purchase. You won't be able to see this on the mobile app or mobile website, but you will still collect points on eligible items.
[optinform]
Spending Nectar points on eBay
When you've signed up to collect points, you also have a second option to spend your points.
For every 500 points your made from Nectar, you have £2.50 to spend.
To start spending you need to:
Go to the Nectar page
Confirm your Nectar card details
Nectar will send you an email to help confirm your details
You then are able to convert your points to vouchers to spend on eBay
You then choose this as they payment method when you check out.
Converting your points and using vouchers
One all set up to spend points, you can now request vouchers to buy stuff from eBay.
You need to choose how many points you want to convert over then click Get It Now.
Vouchers need to be changed in increments of 500 points (£2.50) at a time, up to a maximum of 40,000 points (£200) per voucher.
All your vouchers are stored ready for you to use them in My eBay and you just choose them as they payment method (you need to select PayPal as the initial payment).
When it comes to shopping your purchase needs to be at least £10 insulting any postage costs, but you can use as many vouchers are a time.
As an added bonus, you will still collect Nectar points on what you buy, even if you're using Nectar points to buy it!
Swapped Nectar points expire!
The vouchers do have an expiry date so make sure you know that you're going to spend them before swapping them! You have 12 months from when they were issued to use them up, or you will lose them. You can track their expiry date in your account (but not from the mobile website or app).
Also, once swapped you cannot refund them back to points.